Weld Power Heads to EGSA Fall Conference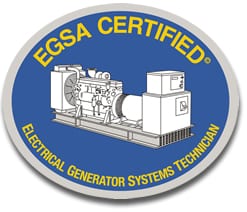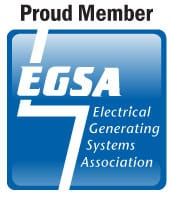 EGSA is the world's largest organization exclusively dedicated to On-Site Power Generators. The Association is comprised of over 750 companies throughout the U.S. and around the world that make, sell, distribute and use On-Site Power generation technology and equipment.
As part of our commitment to advancing professionalism within the power industry Weld Power technicians are EGSA certified. Certified technicians demonstrate a complete and thorough understanding of the power generator industry under industry wide consistent standards.
Our EGSA certified technicians have completed rigorous testing. This testing not only identifies those technicians who have a broad knowledge of electricity, mechanical and electrical components, but who are also proficient in the installation, service, maintenance, and repair of On-Site Power generation systems.
EGSA encourages the exchange of ideas and information for the mutual benefit of its members and often serves as a source of information, education and training holding annual conferences which often set the tone for the on-site power industry for the next year.
This Saturday Weld Power's President Tim, and Director of Sales & Marketing Marcie will head out to the 3-day EGSA Fall Conference in Sacramento CA. The Annual EGSA Fall Conference is held each September and is designed to focus on technical & educational advancement.  EGSA invites speakers from member companies, utilities, research firms, government agencies and others to give presentations that will help educate members on the latest industry trends.
We are excited to continue to grow our knowledge and stay up to dates on the latest technologies in the power generator industry.
Make sure to follow Tim & Marcie's experience at this year's EGSA on our Facebook page!